4. Back
There are different techniques of a spinal dog massage that serve different needs. Flat hand massage, for example, will help to relax your dog and stretch the skin and muscles, while back-and-forth rolling motions will improve the blood circulation and unlock contracted muscles. Follow these steps to choose the best back massage technique for your dog. Take into account that if your dog's back aches badly and you press it hard, the pet might leave or even bite you, so be gentle.
5. Stomach
Improper diet, overeating, parasites, and other factors may lead to dogs having problems with digestion. Massage your dog's belly with gentle circular, clockwise movements to stimulate the colon and eliminate stomach issues.
6. Legs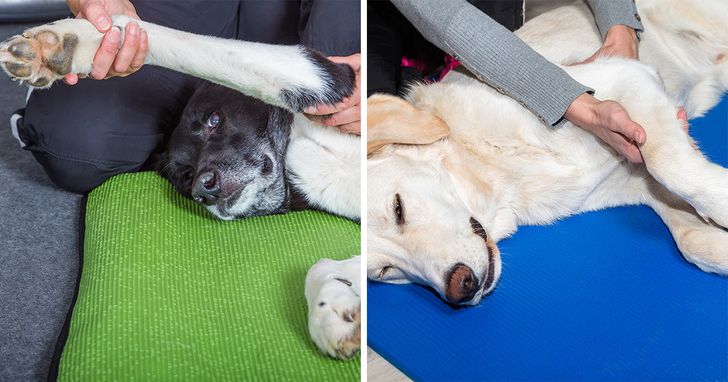 © Shutterstock.com, © Shutterstock.com
Whether young or old, your dog can suffer from muscle strain, arthritis, and joint problems. A leg massage will help to soothe the pain and relieve fatigue. This video gives detailed instructions on how to perform a leg massage that loosens up your pet's muscles.